The number of aircraft in storage or parked has lost much of its relevance over the last ten years whereas at one time, it was a crucial component in determining values.
According to Jet Information Services (www.jetinventory.com) of the 29,824 commercial jet aircraft in service as of the end of December 2018, there were 1,826 parked or in storage. This total does not include whitetails, aircraft parked for maintenance, modification or conversion. However, it may include those aircraft that are the in the process of being transitioned to new operators. The 1,826 aircraft comprise 1,434 narrowbodies and 392 widebodies, barely changed from the previous year. The number of narrowbodies has been falling from the recent peak of nearly 2000 as of December 2012 to the current 1,434 but this contrasts with the widebody total that now sees 392 in storage compared to 383 as of December 2012.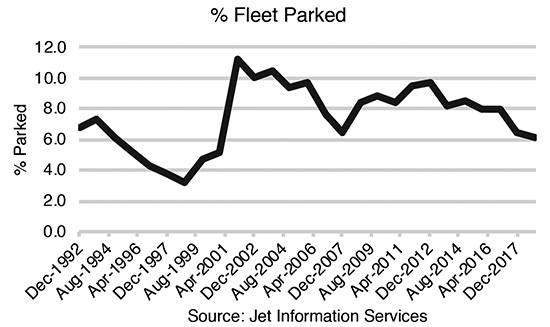 As a proportion of the fleet, those in storage totals 6.1 percent which compares with December 2012 when 9.8 percent of the fleet was in storage and December 2001 when 11.3 percent were parked out of a then fleet of 16,600 aircraft. There are still B707s, DC8s, DC9s and DC10s listed as being in storage.
There are a number of sources for aircraft in storage and depending on definitions, there can be a number of alternative totals. To a large extent if an aircraft has been in storage for more than three years there exists little potential for a return to service and as such should essentially be listed as being retired. Using such a definition would see many older aircraft being removed from the listing and reflect those types have some relevance to the wider market.