While the fortunes of the A220 are ascending those of the B777-300ER are clearly falling as the market looks at the arrival of the B777-9 and ponders of how the -300ER will fare in the used market.
With an age profile that now stretches back for approximately 16 years the type is facing considerable pressure. There have been 842 orders for the -300ER with 803 deliveries as of March 31st 2019 leaving a backlog of 39. Orders for the B777X number 344, having barely increased in recent years. The age profile of the -300ER increasingly favors replacement by operators of the type. The cost of engine overhauls will be an issue going forward particularly if accompanied by the need to replace some LLPs and this may dissuade second tier operators from acquiring older used units.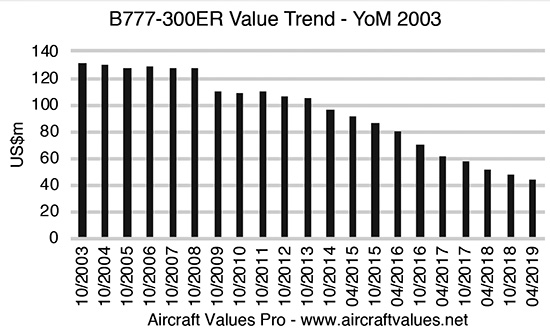 The values of the -300ER improved in the middle of the last decade as demand for capacity quickly increased and as production of the B747-400 ceased and high fuel prices made the competing A340-600 less desirable. The recent rapid decline in -300ER values contrasts with much better performance in previous years. while values fell by some fifteen percent during the first year of the financial crisis of 2008, there was a subsequent modest improvement.